Naked Nutrition Vegan Protein Powder: A 30-Day Review
One of the most commonly asked questions vegans get asked is, "Where do you get your protein?" There's a huge misconception that vegans are severely protein deficient and eat grass all day.
While it's possible to have nutritional gaps on a vegan diet – or any diet for that matter – it's easier than you'd think to get enough protein from plant-based sources alone. In fact, all plant foods contain protein. Some are naturally richer in protein, such as beans, lentils, nuts, seeds, quinoa, and more.
Incorporating a vegan protein powder is a simple way to reach your protein goals faster or get more of the muscle-building macronutrient. For the last 30 days, I've been testing out the vegan protein powder from Naked Nutrition. Here's my review on the taste, ingredients, and more.
Disclaimer: This post is sponsored by Naked Nutrition, who sent me their product to review. All opinions are my own. If you make a purchase using my Amazon affiliate links, I may make a small commission at no extra cost to you. Please check out my Disclaimer for more information.
Without further ado, let's get started.
What is Naked Nutrition?
Naked Nutrition is a supplement brand with offerings ranging from vegan protein powders, multivitamins, and more. The brand was founded in July 2014 by former cross country and track All-American Stephen Zieminski. Today, they boast more than 50 products.
So, what makes Naked Nutrition different? For starters, their motto is that they have nothing to hide.
In the supplement industry, transparency is incredibly important, but not all brands take transparency seriously. You may have noticed that some supplements have confusing labels, long ingredient lists, and questionable ethics. While supplements are regulated by the U.S. Food and Drug Administration (FDA), they're classified as food products, so manufacturer's can find ways to cut corners.
Naked Nutrition's goal is to provide supplements like protein powder with just a few premium ingredients and simple labels, so consumers have more control over what they're ingesting.
Protein powder was one of the first supplements they tackled. They created a whey protein powder with just five ingredients – some products contained as little as one ingredient each. To meet the demand for high-quality vegan protein powder, they also created plant-based offerings using pea powder made from raw yellow peas grown in the USA and Canada.
Does Naked Nutrition Have Vegan Protein Powder?
Yes, Naked Nutrition has vegan protein powder. In fact, they have an entire vegan range with more than a dozen different options.
The brand uses peas as its main vegan protein source, but it also offers high-protein products made from brown rice protein, powdered peanut butter, and even seeds. Pea protein is a great addition to a vegan diet because it's easy to digest, high in iron, and creamier than other protein powders, notes the Cleveland Clinic.
Just keep in mind that Naked Nutrition is not a 100% vegan brand. They also offer animal-based formulas. Fortunately, it's easy to tell which products are suitable for vegans since the brand uses clear labeling.
Naked Nutrition Vegan Protein Powders
There are a few vegan options to choose from, so there's something for everyone. Here's how a few of them stack up:
Data comes from nakednutrition.com
Naked Nutrition Vegan Protein Shake 30-Day Review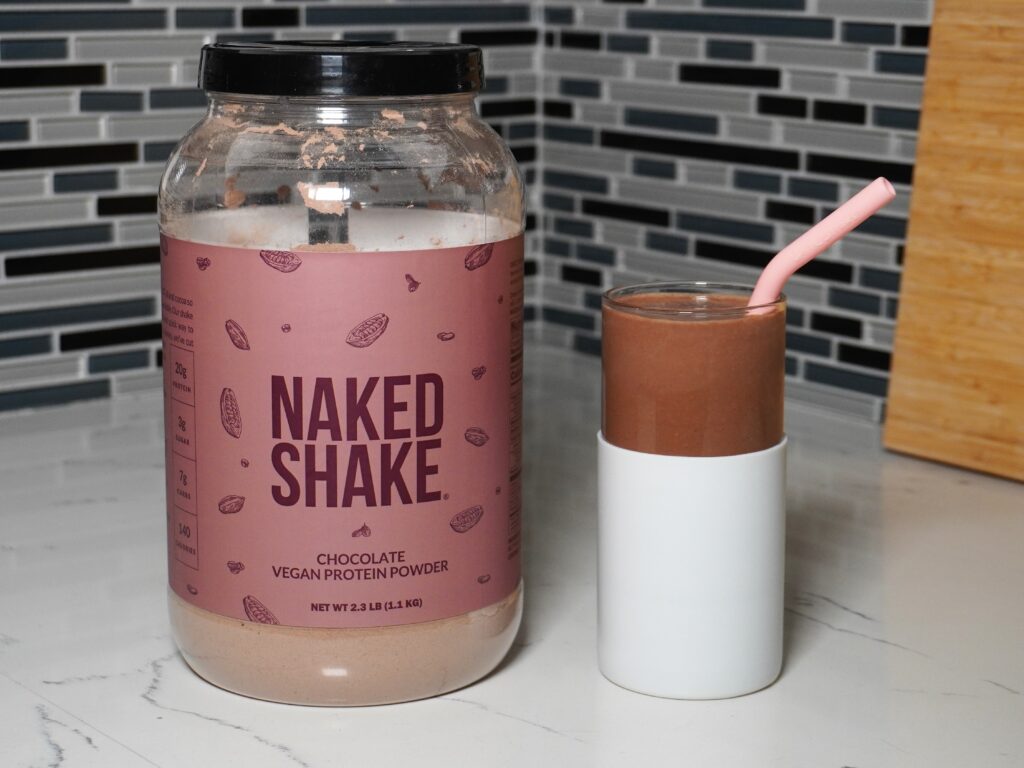 After reading what Naked Nutrition's all about, I had to try their vegan protein powder for myself. I tried the Naked Shake in the chocolate flavor, which is a vegan chocolate protein powder you can add to smoothies. Here are my thoughts after trying it for 30 days.
Taste
If you're a chocolate lover like me, you'll enjoy the taste of this vegan protein powder. I almost exclusively use vanilla protein powder because it's so versatile, but something compelled me to try the chocolate shake, and I'm glad I did. The second ingredient is cocoa powder, so it's a natural chocolate flavor, which I appreciate.
If you mix it with water or non-dairy milk, you'll notice more of the monk fruit flavor come through. I'm not complaining because I love sweet shakes, but if you're sensitive to sweet flavors, you'll enjoy this more when it's blended with other ingredients or in smaller amounts.
Texture
Pea protein is supposed to be a creamier option, and I can attest to that. I've had some chalky protein powders in the past, and this is not one of them. The added MCT oil goes a long way to make for a better mouthful.
Blending it with other ingredients definitely helps. Some user reviews found it chalky, but it appears that they manually mixed it in a shaker bottle. You'll get a much better texture when you throw it in the blender. I use a Vitamix Explorian Blender to get a creamy, smooth consistency.
Ingredients
One of the most compelling reasons to give this Naked Nutrition vegan protein powder a try is the clean, simple ingredients.
Here's the full ingredient list:
Pea Protein
Alkalized Cocoa
Organic Coconut Sugar
Natural Plant Based Flavors
MCT Powder (MCT Oil, Acacia)
Potassium Chloride
Fermented Cane Sugar (Reb-M)
That's it!
As someone who's more health conscious, I prefer supplements with clear labels, quality ingredients, and none of the fluff. I believe Naked Nutrition has done that, though I would prefer they disclose what's in their blend of natural flavors.
For those with allergies, the ingredients are free of soy and gluten but it does contain coconut (aka tree nuts).
Nutrition Facts
The nutrition facts are on par with what you'd expect in a vegan protein powder. Each serving contains 20 grams of protein, though they have powders with even more protein.
It also contains 140 calories, which is perfect for those looking for a protein powder for weight loss.
In terms of minerals, it offers some calcium, potassium, iron, and a small amount of sodium.
Third-Party Lab Testing
One of the most important criteria when choosing a protein powder – or any supplement – is to ensure it's third-party tested by an independent lab. This guarantees that it contains what it says it does and isn't a significant source of heavy metals.
Not all supplement brands take this extra step, but Naked Nutrition does. It would be nice to know what lab the brand uses for its testing.
Vegan Protein Shake Recipe
One of the main selling points of protein powder is that you can quickly mix it in a shaker bottle. You can certainly do so for a quick burst of protein, but I use a blender 100% of the time.
Here's a recipe I created, which was a huge hit in my household:
2 scoops of the Naked Nutrition vegan chocolate shake
1 frozen banana
¾ cup cold brew coffee
¼ cup unsweetened vanilla almond milk
1 tablespoon peanut or almond butter
2 tablespoons cacao or cocoa powder
1 teaspoon agave or maple syrup
Where to Buy
Naked Nutrition is sold on nakednutrition.com and Amazon. It's only available online. If you go through vegan protein powder quickly, you can set up recurring subscriptions so you never run out.
Here are links to everything I used:
Frequently Asked Questions
Why is it called Naked Nutrition?
The idea is that naked supplements are free from unnecessary additives. They are as pure as possible with no artificial sweeteners, colors, flavors or mixing agents. When your protein powder is naked, you have the most control over what you're adding to your shake and putting into your body.
Why is there 230 mg of sodium per serving?
According to Naked Nutrition, the peaks are soaked in salt water to help with alkalinity. Each serving accounts for roughly 10% of your daily sodium intake.
Is pea protein hard to digest?
It's a myth that pea protein is difficult to digest. It's actually easier to digest than other protein powders. Some people with certain GI issues may experience gas or bloating from the FODMAPs in pea protein, but it's gentle on most stomachs.
Final Thoughts
I've tried many vegan protein powders over the years, and I've stuck to my current favorite brand for the last two years.
My criteria for a good vegan protein powder is that it has 20+ grams of protein per serving, is third-party tested for heavy metals, and doesn't contain any questionable ingredients. Taste and texture are important, too. Naked Nutrition's vegan protein shake checks all the boxes for me.
I'll definitely repurchase this product again and plan on giving their other options a try in the future.